On 20th November 2006 Visa Rauste (Visa.Rauste@Helsinki.FI, tel +358-9-19144146) asked the members of the ID Frontiers list to have a look and to comment on a first-winter gull he photographed in Finland the week before, in particular from people familiar with the American Herring Gull Larus smithsonianus and (preferably) argentatus Herring Gulls, see:

http://www.helsinki.fi/~rauste/gulls/jussi2.html

http://www.helsinki.fi/~rauste/gulls/jussi3.html

It is obvious why Visa asked for comment since his gull is dark overall and shows the tail-pattern considered by many as typical for the American Herring Gull Larus smithonianus.

On 4th December 2006 I came across a young gull in the Port of Rotterdam, The Netherlands, equally dark and with a similar tail-pattern as Visa's gull, (see pictures 1 to 5). This gull stood side by side with gulls originating from Eastern and Northern Europe such as Russian Herring
Gull L.a.argentatus (pic.18), Marsh Gull Larus omissus (pic.19) and Caspian Gull L.c.cachinnans (pic.20) as well as, of course, our local Dutch Herring Gull L.a.argenteus (pic.21)!

The tertial-pattern of Visa's gull does resemble that of L. smithonianus as can be seen in pictures taken by Martin Reid and others, see:


http://www.martinreid.com/

The tertial-pattern of the young gull seen by me is different from Visa's gull. The mantle of the Finnish bird only shows a few new 1st winter feathers. My gull has a completely new first-winter mantle. Young West-European Herring Gulls begin to develop a 1st-winter mantle from the last days of August onwards. Judging from photographs it looks as if the 1st winter plumage of L.smithonianus begins to develop from late November onwards. How fully developed mantles of 1st-winter L.smithonianus looks and vary is unclear but I have never seen a picture of smithonianus showing a mantle similar to the gull I found in Rotterdam! If this is correct than the tail-pattern which we consider so typical for L.smithonianus may be of limited but no more of decisive value in distinguishing young American from young European Herring Gulls! If Visa's gull and my bird are not L.smithonianus what are they then?
Norman Deans van Swelm
click photo to photopage>>>

(heuglins/barabagulls)
---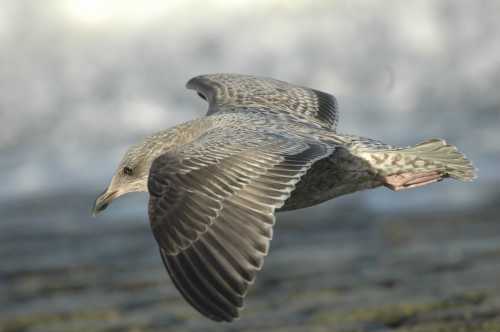 -01.gull spec1st winter plumage 04122006 rotterdam
---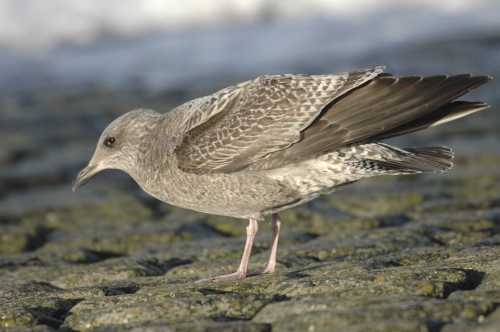 -02.gull spec1st winter plumage 04122006 rotterdam
---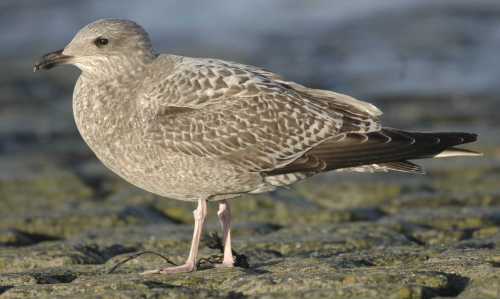 -03.gull spec1st winter plumage 04122006 rotterdam
---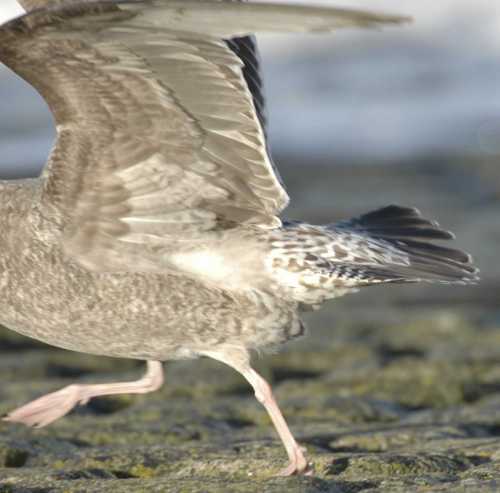 -04.gull spec1st winter plumage 04122006 rotterdam
---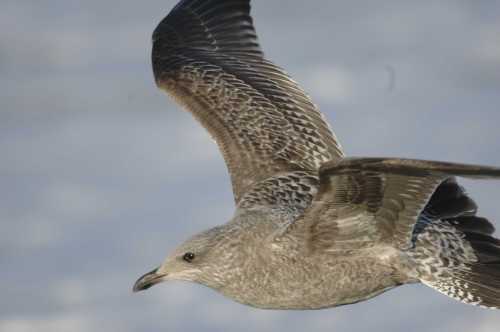 -05.gull spec1st winter plumage 04122006 rotterdam, the netherlands
updated 18 Nov 2021